St Paul Biography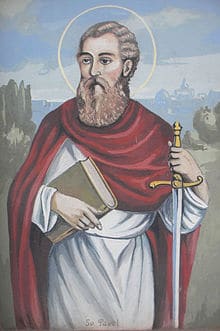 St Paul was an influential figure in the early development of Christianity with his writings forming a key section of the New Testament. He is credited with codifying many aspects of Christianity through his letters to the early church.
St Paul was a Roman citizen who in his early years took part in the persecution of Christians. (then a forbidden cult) However, on the road to Damascus, he reported to being blinded by a vision of Jesus. For three days he remained blind, but was healed by a Christian – Ananias of Damascus. After his vision and healing, he proclaimed the divinity of Jesus Christ and dedicated his life to spreading the Christian message.
St Paul, also known as Saul, ethnically was Jewish, but he was born a Roman Citizen in Tarsus, Cilicia, South Turkey. He grew up in Jerusalem and was brought up by Gamaliel, a leading authority in the Jewish religious establishment (Sanhedrin). During his early life, St Paul admitted to being party to the persecution of Christians such as the stoning of Stephen, a Christian.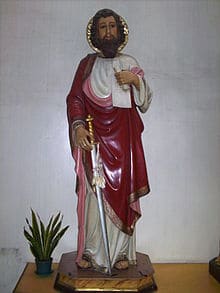 After his conversion around 21-36 AD, Paul went to Damascus and later Jerusalem.
He made several missionary journeys around the Mediterranean basin where he sought to spread the teachings of Jesus and offer support to the fledgling Christian community. St Paul visited many places such as the island of Cypress, Pamphylia, Pisidia, and Lycaonia, all in Asia Minor. Later, he travelled as far west as Spain. He established churches at Pisidian Antioch, Iconium, Lystra, and Derbe. He later made Ephesus the central place of his missionary activity.
St Paul became involved in doctrinal disputes amongst the early followers of Christianity. St Paul was instrumental in deciding that former Jewish practises such as circumcision and dietary law were not required by Christians.
Therefore we conclude that a man is justified by faith without the deeds of the law. Is he the God of the Jews only? is he not also of the Gentiles? Yes, of the Gentiles also: Seeing it is one God, which shall justify the circumcision by faith, and uncircumcision through faith.

He also taught that Jesus Christ was a divine being, and salvation could be achieved by faith alone.
All have sinned, and come short of the glory of God; Being justified freely by his grace through the redemption that is in Christ Jesus.
Romans 3:19-31
St Paul was a key theologian on the doctrine of atonement. Paul taught that Christians are freed from since through Jesus' death and resurrection.
On arriving in Jerusalem in 57 AD, he became embroiled in controversy over his rejection of Jewish customs. He was arrested and held in a prison in Caesarea for two years. Since he could claim rights as a Roman citizen he was eventually released.
He spent his remaining years writing letters to the early church and acting as missionary. Details about his death are uncertain. But, tradition suggests he was beheaded.
The Feast of the Conversion of Saint Paul is celebrated on January 25.
"Though I speak with the tongues of men and of angels, but have not love, I have become sounding brass or a clanging cymbal. And though I have the gift of prophecy, and understand all mysteries and all knowledge, and though I have all faith, so that I could remove mountains, but have not love, I am nothing. "
St Paul I Corinthians Ch. 13 (NKJV)
St Paul and the Role of Women
St Paul sets out his views on the treatment of women.
1st Timothy 2:9 In like manner also, that women adorn themselves in modest apparel, with shamefacedness and sobriety; not with broided hair, or gold, or pearls, or costly array;
11 Let the woman learn in silence with all subjection.
12 But I suffer not a woman to teach, nor to usurp authority over the man, but to be in silence.
13 For Adam was first formed, then Eve.
14 And Adam was not deceived, but the woman being deceived was in the transgression.
15 Notwithstanding she shall be saved in childbearing, if they continue in faith and charity and holiness with sobriety.